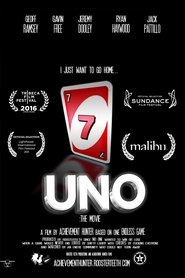 Uno: The Movie (2016)
At the end of a workday, the only thing anybody wants to do is go home. Unfortunately, that won't be happening tonight. Five co-workers play a game of UNO with ridiculous rules, and it quickly spirals into insanity. Only one can walk out of the office with their head held high, while the others wallow in their defeat. Join Geoff "Corpirate" Ramsey, Jack "Eats'a'lot" Pattillo, Ryan "The Mad King" Haywood, Gavin "Slowmo" Free, and Jeremy "Monster Truck" Dooley in the most anticipated card game ever witnessed in: UNO: The Movie.
Duration: 164 min
Quality: HD
Release: 2016
Tagline: I just want to go home...
9.9